By Melissa Hughes – Editor of Artefacts
I took over as Editor of Artefacts in Summer 2015, when John Pownall decided to retire, and I have had a hard act to follow. John had been editing the magazine for just over 10 years, during which time Artefacts had gone from strength to strength. Having met with PW Media, who design and produce the magazine, Artefacts had a re-design in October 2015. The magazine changed to a larger A4 format, which enabled us to include more content and larger, high definition images. Recently, I was invited to enter Artefacts into the British Association of Friends of Museums' 2017 Newsletter competition and I submitted our May-July 2017 edition (the one with Verity Milligan's photograph on sunrise at Selfridges on the front cover) for judging.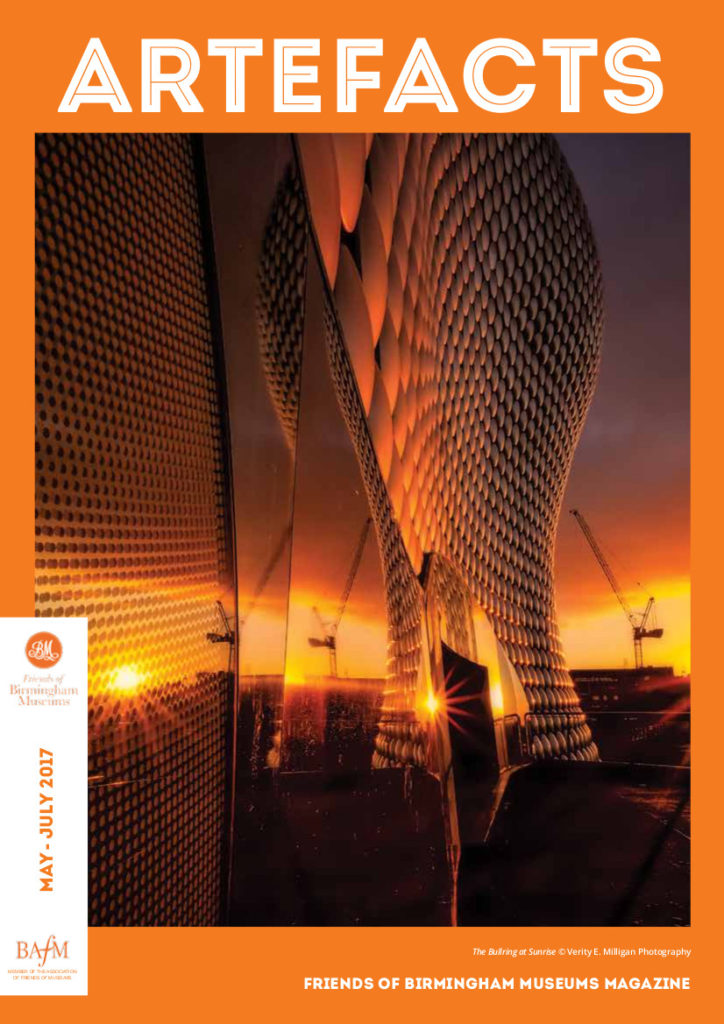 I am delighted to let you know that, at the end of August we discovered our magazine had won second prize! We received the Award on 17th October 2017 when Jean Knight, the Secretary of the BAfM, presented us prize at our October Committee Meeting: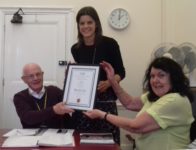 Artefacts is one of the Friends key tools for promoting the work which we do, encouraging people to join the Friends, and persuading readers to support both us and Birmingham Museums Trust. It enables us to develop mutually beneficial partnerships with local arts and cultural organisations, offering a channel to publicise these organisations and their projects. Artefacts has grown over the last few years – thanks to the hard work of a small and dedicated team. I would particularly like to thank Paul Blyth, Graphic Designer at PW Media, for all his hard work, professionalism and patience; Derek Street, the Friends' volunteer who patiently puts together our crosswords; Jill Warren, who writes the two feature articles for each edition; all the contributors who regularly write and submit content; and our diligent team of proof readers who work with me to make Artefacts as error-free as possible!
We publish 5,000 copies which are distributed across the West Midlands, and I am delighted that it continues to be so well received and supported… And we can now claim to have an 'award winning' magazine!
I always welcome any feedback or suggestions on the magazine, so please do get in touch.