The Friends is an independent registered charity, set up in 1931 to support the work of Birmingham Museum and Art Gallery.  Over the years, this has extended to include nine museum sites that now make up the current Museums Trust.
In 1931, we were set up by the then Keeper of the Gallery, SC Kaines-Smith, who wrote to the Treasurer of the City Council, Mr JR Johnson, on 31 January 1931: 'I am hoping that we may get together about £1,000 or £1,500 by means of a very large number of small subscriptions, and I am proposing that these subscriptions should be made payable to you for the Friends of the Gallery Fund Account.'  So within 6 months 'the Friends' was born.
Now we are an organisation which has just under 1,000 members.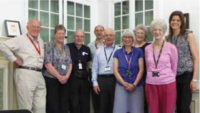 We organise about 50 separate events annually, including: One overseas trip (the inside of a week); One weekend away in the UK; Day trips out; Talks and lunch clubs in one of the Museums; Evening talks; our AGM; our Annual Lunch and our Annual Lecture.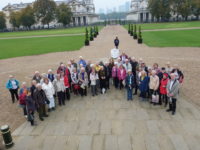 We aim to give £25,000 per year to BMT, and this money is used for a variety different purposes: capital funding; purchasing acquisitions; supporting conservation; and  supporting contemporary artists through commissions.
The Friends have given over 2,000 objects to Birmingham Museums; do go and see them! Here are two striking acquisitions that represent our long history…
'Mumtaz Mahal' by an unknown Indian artist, an enamelled miniature purchased by the Friends in 1931; one of the first ever artefacts purchased by the Friends. It was bought in 1931, among some others at the first Friends' Committee meeting. After she died young, the Taj Mahal was built in her honour.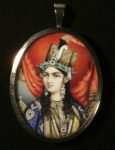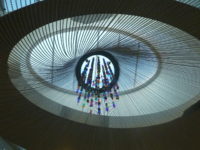 'Transporter' by Keiko Mukaide and Ronnie Watt was commissioned by the Friends in 2011 to celebrate our 80th birthday and the opening of the Birmingham History Galleries. We wished to commemorate the occasion with something of lasting impact and, after consulting with the Trust's curators, the Friends commissioned world-renowned artists, Keiko Mukaide and Ronnie Watt, to make this dramatic work. It hangs below the stairs leading up to the History Galleries, attracting people up. The Friends were actively involved with the artists as they designed and constructed the installation, which is called 'Transporter'.