This latest exhibition in the partnership series of Birmingham Museums with the Arts Council Collection is, once again for me, great fun. It explores what artists think of modern technology and what they can do with it. The result is sometimes funny, sometimes quirky and – since this is contemporary art – other times simply opaque. But it always rewards attention. Have you yearned to play "Space Invaders" again? Here you can, with the attraction of earning a different kind of reward for success. You will also gain a different view of what Twittering might have been.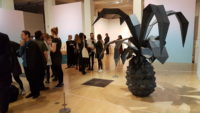 Lots of the works are video-based. You will spend quite a lot of your visit inside viewing tents within the Gas Hall at BMAG. Not least at "Feed Me", an hour-long video exploring childhood from all angles, many of them very challenging. (The note outside this exhibit warns that it is unsuitable for under-16s!) This is an exception, however, since much of the rest of the show will appeal to children.
And if you are wondering at the exhibition's title, it is the name of a tiny ink drawing by William Blake showing a child grasping for a star in the night sky. The drawing, on loan from the Fitzwilliam at Cambridge, is displayed in a case directly in the entrance.
The show is open from April 1 to October 1, 2017. Don't miss it!
There will be a companion show in Thinktank from late May. Look out for it.