Closing Celebration with Artist Talk 
Thursday 17 January 2019 | 6pm – 8pm | The Vittoria Gallery Lecture Theatre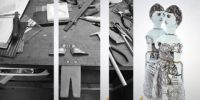 The Vittoria Gallery have invited members of the Friends to join their Closing Celebration with Artist Talk for Enamel | Substrate, a solo exhibition by John Grayson, crafts maker, academic and researcher.
Enamel | Substrate is the culmination of John's practice-based PhD investigating the [lost] craftsmanship employed in the 18th South Staffordshire enamel trade. The trade made objects for the person and the home such animal-shaped snuff boxes, Rococo and Neo-Classical styled candlesticks and Medieval armour shaped mustard pots, from paper thin copper foil coated with enamel. John's past craft practice identified a knowledge gap in the literature with regard to the manufacture of the fundamentally important copper substructure of these objects.
The exhibition encapsulates the research method, the journey of enquiry and its findings. It presents:
examples of the method of analysis of museum objects – analytical drawing, photographs and video – that reveal hitherto unknown construction;
samples from contemporary craft making – material experiments, sketch-books and John's contemporary craftwork – that formed the method to both investigate, understand, and demonstrate the creative value of the 18th century craft processes;
objects replicated to test construction hypothesis – examples of an 18th century candle snuffer, a bird-shaped bonbonnière and a candlestick – which, for the first time, reveal the complex and ingenious construction of the copper substrate previously hidden under the enamel.
The exhibition will be of interest to historians, museum and heritage professionals, and contemporary crafts makers alike.
Click here to book a ticket for the artist's talk from 6pm until 6.30pm, and then the Private View and celebration in the Vittoria Street Gallery between 6.30-8pm.
Enamel | Substrate has been co-curated with Ruthin Craft Gallery and Wolverhampton Art Gallery. The research has only been possible through access to the museum enamel collections of Wolverhampton Arts and Culture; The Victoria and Albert Museum, London; the Museum of London; The Harris Museum, Art Gallery & Library, Preston; and Birmingham Museums Trust: and the generous support of Birmingham City University through a STEAM Doctoral Training Grant.