New Art West Midlands gives a chance to young artists in the region to display their work. The quantity and scale of the entries this year are filling four different display venues: – Waterhall Gallery at Birmingham Museum and Art Gallery, Midlands Art Centre (MAC) at Cannon Hill Park in Birmingham, Wolverhampton Art Gallery and Worcester Art Gallery. I have visited the first two of the above, but cannot comment on the work displayed at the others. The initial impressions at these first two is that the chosen works have a real sense of scale about them.
The front cover of the current Artefacts magazine uses part of a large image built from fractal imagery. Its actual proportion is displayed here: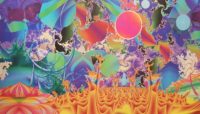 If you liked the Artefacts cover, you'll love the real thing – at full size it is much more striking. You'll find in the Waterhall display.
For me, a kind of companion piece, possibly because of its similar proportions, is included in the MAC show.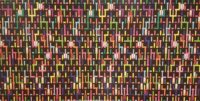 Viewed small in this post, it looks dull. The real thing is much more impressive. As are many of the works.
Go and see at least one of these shows. Our upcoming artists have real potential.