To accompany "I Want! I Want!" – the technology-oriented show at the BMAG Gas Hall – the Arts Council Collection has loaned Birmingham Muse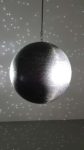 ums a most unusual display of solar eclipse images. How can 10,000 (or so) images be presented? Artist Katie Paterson has attached tiny copies of each to the faces of a glitter ball. Illuminated in the centre of a white cube (ca 4m each side), the individual images are reflected onto the walls. Standing inside this space, as the glitter ball rotates, the viewer is first bedazzled then bewildered and probably disoriented too. It requires concentration to examine the individual images as they spin by. It's about the impression. 


I found the Birmingham Museums contributions to this mini-show most rewarding. Located in the space outside of Totality these constituted an array of paintings and two display cabinets of physical objects. The most startling for me were the moon images created by John Russell in the late 18th century; one a painting, the other a globe (only one half contains detail, of course, since only one face of the moon is visible to Earth-bound observers). The detail that Russell recorded from his painstaking observations is truly remarkable. Only now that we have satellite observation and human exploration, can we appreciate how perceptive were his paintings. (Both the painting and the globe have been relocated from their customary home at Soho House for this temporary show.)
This show challenges the view that Thinktank – a Science and Technology museum – is not an appropriate location for art. 
What do you think?